Salvador Dali - Studio of Dali (L'Atelier de Dali)
---
Salvador Dali
Spanish (1904 – 1989)
Salvador Dali Studio of Dali (L'Atelier de Dali) , 1965

Salvador Dali Studio of Dali (L'Atelier de Dali) lithograph was published by Sidney Lucas, New York with a total tirage of 312 on various papers. Field indicates Arches and japon, while Lopsinger indicates Rives and handmade paper. This etching is on Rives, is signed by Salvador Dali is numbered 112/300 and bears the copyright stamp of Sidney Z Lucas faintly in the lower right. The image size is 19 x 25 1/2″ and the sheet is 22 1/4 x 30 1/8″.
The Phyllis Lucas Gallery published a catalogue of works published by them. This catalogue contained a description of the works and below is the information provided on "The Studio of Dali."
This print, perhaps the most complex of the series, the the by-product of the huge painting created for the Spanish Pavilion at the World's fair. While working on this canvas, Dali kept this small gouache at his side and turned to it now and then for relaxation. The result is a highly complex, comprehensive work, packed with a variety of images, an amalgam of many styles and techniques.
In the center is a trick perspective of the variety so characteristic of Albers. Through, over, or behind this is a second perspective done in more shadowy, painterly tones, doors of windows opening into a series of lighted spaces. The rest of the space is atmospherically suggested by a spray of varying intensity and shade. Here Dali, the master of perspective, performs a lever-de-main of spacial construction.
The print is populated by a throng of diverse and mysterious figures, the products and inhabitants of Dali's Studio and his ever-productive mind. And in the center stands a mustachioed impresario – Dali, perhaps, or Don Quixote – marshaling the hoards.
The type of paper is not given in the catalogue and the price is given as "price on request."
Call us for more information. Available!!!
Click on the thumbnail for a larger image.
Go to the main Individual Works Page for complete etching information.
Studio of Dali lithograph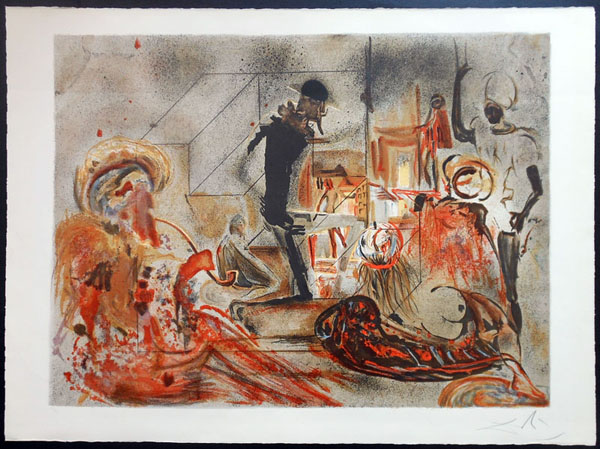 ---