Salvador Dali - Cranes mous et harpe cranienne
---
Salvador Dali
Spanish (1904 – 1989)
Salvador Dali Cranes mous et harpe cranienne 1935

Salvador Dali Cranes mous et harpe cranienne (Limp Cranes and "Cranian" Harp) 1935 is intaglio. Roger Lacourière printed the etching. The total tirage is unknown. The MoMA web-site gives as much information available regarding this intaglio as anywhere. The image size is 14 1/4 x 11 15/16." Plus, the sheet size is 23 x 16 3/8." This is a very small edition. This etching appears to be a proof. It is printed on an unwatermarked paper. The paper itself has printer's creases. It is unevenly trimmed. It has printer's smudges in the margins and a few in the image. There is a nice burr.  There is an unidentified collector's stamp in the lower right corner.  Plus, the etching is signed and dated in blue crayon.
Michler and Lopsinger catalogue the etching as #56. Field does not include the etching in the current catalogue. However, there are indications that it will be included in the revised catalogue. Michler and Lopsinger indicate only a few impressions are known. Most of these are unsigned and auction catalogues indicate that some of these were printed after 1935.  Thus, there is a need to show that this is an authentic work by Dali (see below).
Click on this link for additional background information on Salvador Dali.
Call us for more information. Available
Click on the thumbnail for a larger image.
Go to the main Individual Works Page for complete etching information.
Finally, go to the main Dali Page for complete etching information.
Cranes mous et harpe cranienne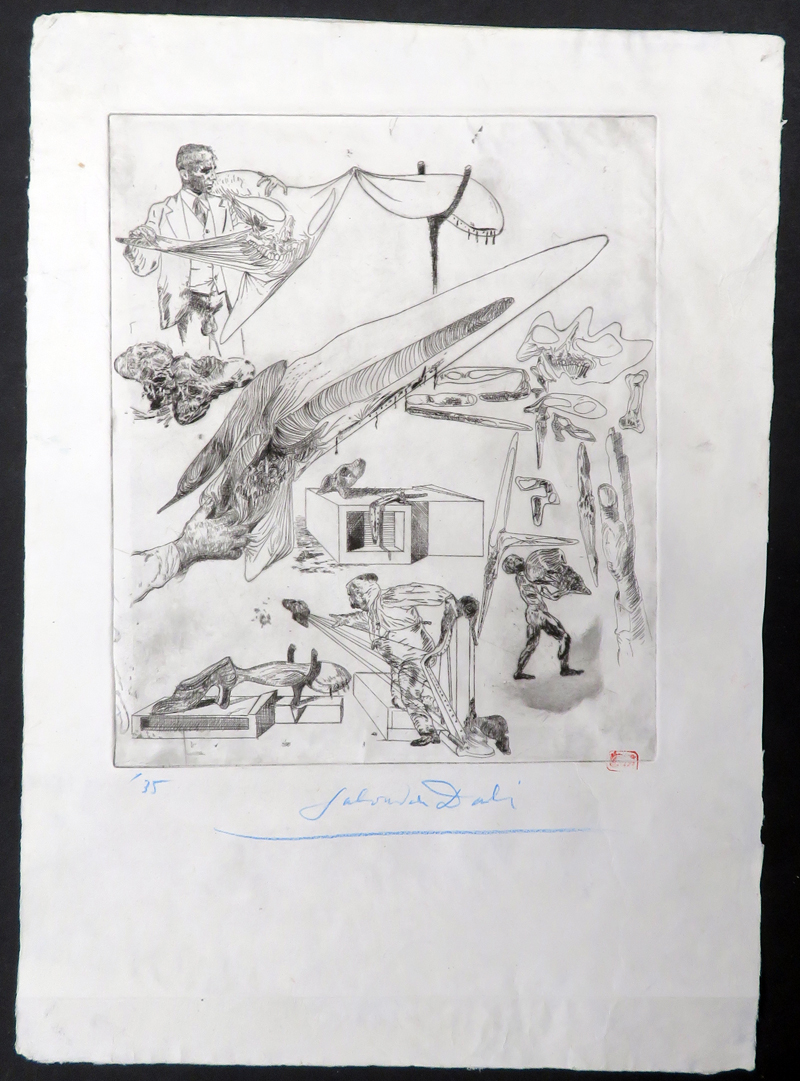 ---
Three versions "states" of this work appear in the literature.  I identify  these as the MoMa version, https://www.moma.org/collection/works/68852, the Christie's version, https://www.christies.com/lot/lot-6033837?ldp_breadcrumb=back&intObjectID=6033837&from=salessummary&lid=1, the Swann version (see above).  There have been several of the MoMa version sold at auction.  Some of these sales list the item as printed after 1935, but they are identical to the MoMa version.
So, what