Marie Laurencin
Marie Laurencin
French (1883 – 1956)
Marie Laurencin lithographs, etchings, and books
Marie Laurencin lithographs and etchings are featured at the Lockport Street Gallery. Laurencin is best known for her illustrations of beautiful women.  These include etchings, lithographs, and illustrated books.  She works with the eyes. Pastel gray, rose, and blue are her favorite colors/tones.   She was born and educated in Paris.  She had friendships with members of the Cubist and Fauvist schools.  Laurencin had a working relationship with Picasso.
Daniel Marchesseau catalogued her works.  These include etchings, lithographs, and books.  The title of the book is "Marie Laurencin Catalogue Raisonne de L'Oevre Grave."  This is a rare catalogue.  Japanese is the language.  There is an addendum in English.  The addendum is of some help.  However, it is not the best.  The poet/artist Apollinaire was her friend.  He is the father of Surrealism.  She is one of Modern Art's most exceptional artists. The edition size of her signed etchings and lithographs is quite small.  Therefore, they are usually around 100.   There are numerous restrike impressions.  These are signed in the plate. We feature original signed etchings and lithographs.
Click on this link for more information on Marie Laurencin etchings.
We show the works unframed.  This method best displays the image.  But we will be happy to custom frame them to your specifications.
For price and availability email us.  Or call us directly.   Our number is 313.924.5730.
1908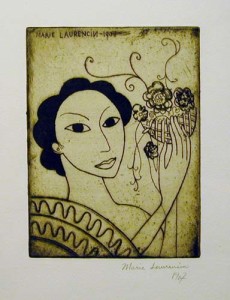 212 mm x 158 mm Edition of 20
1908
$5000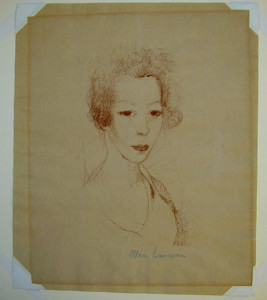 210 mm x 144 mm
1908
$1900
1920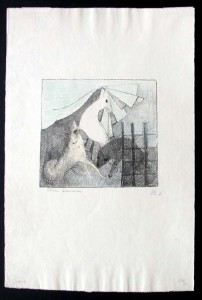 190 mm x 165 mm Edition of 110
1920
$775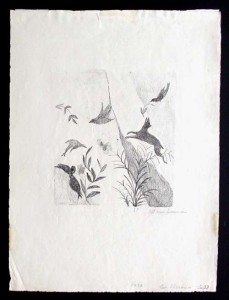 190 mm x 165 mm
1920
Sold!!!
1921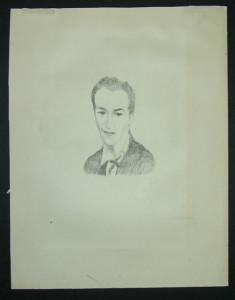 105 mm x 75 mm
1921
$1800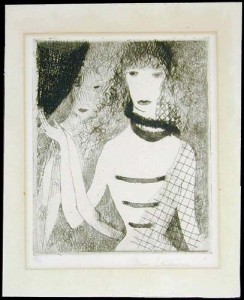 170 mm x 132 mm Edition of 41
1921
$1800
1922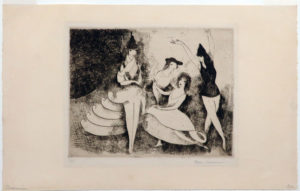 201 mm x 255 mm
1922
$1800
1924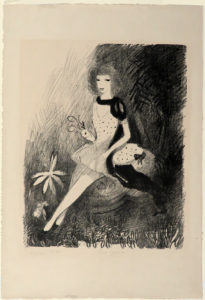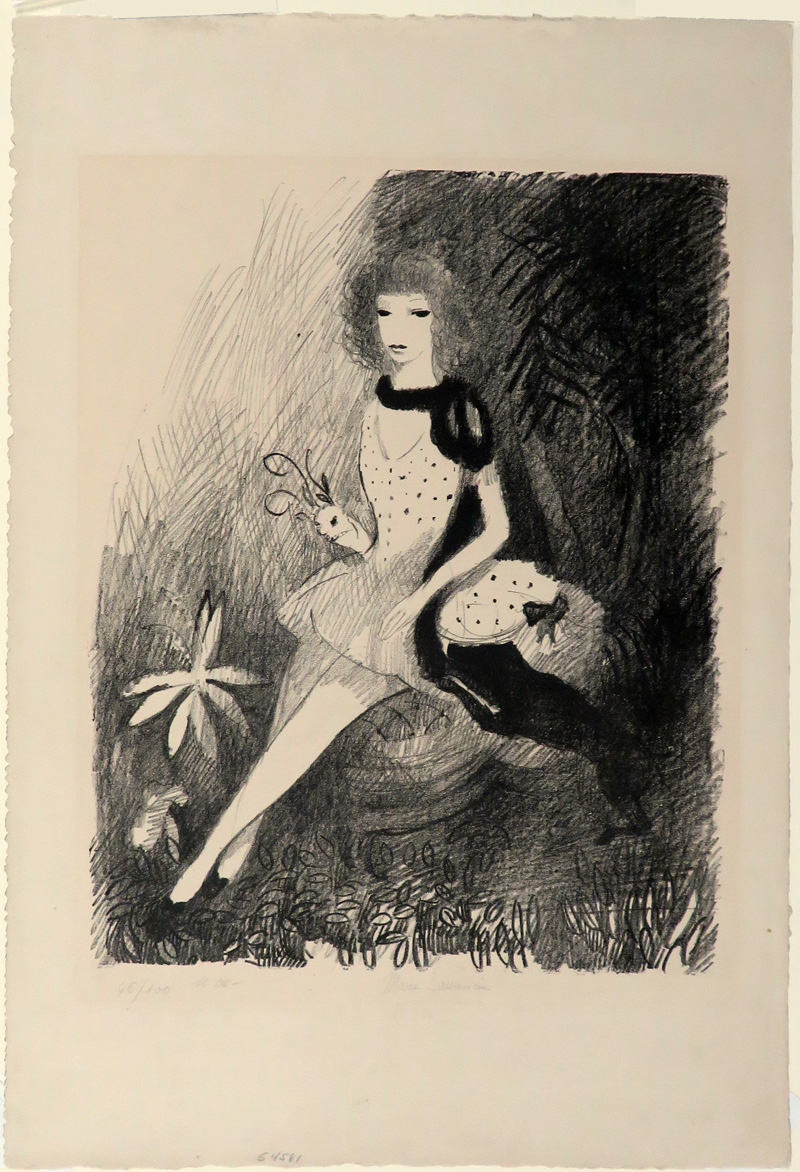 390 mm x 310 mm
1924
$2500
1925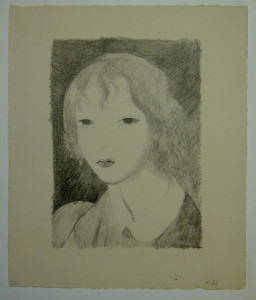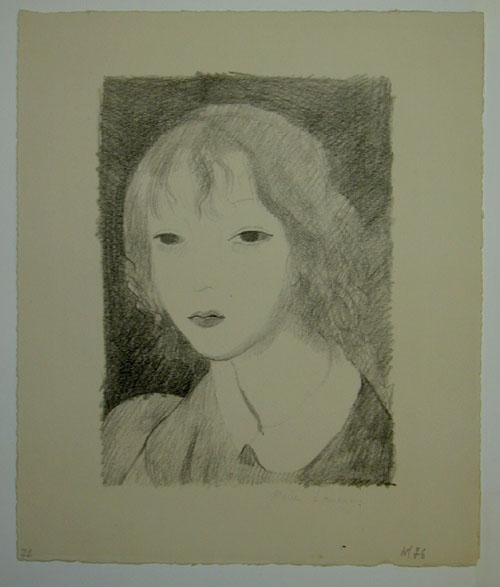 – 203 mm x 145 mm Edition of 105
1925
$1700
1926
1927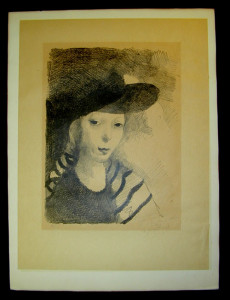 370 mm x 179 mm
1927
Sold!!!
1928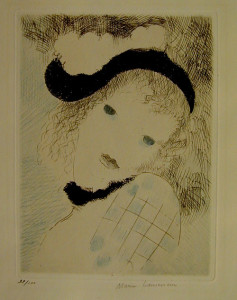 235 mm x 172 mm
1928
Sold!!!
1930
1950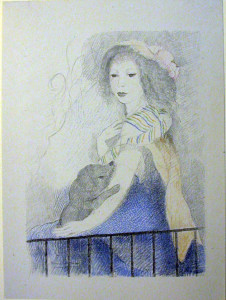 345 mm x 250 mm
1950
$1700
1952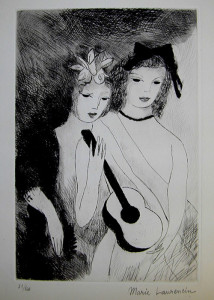 300 mm x 196 mm
1952
Sold!!!
1954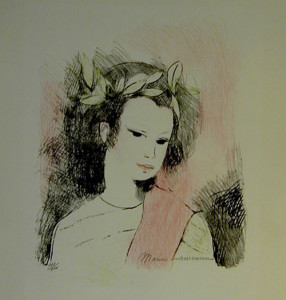 300 mm x 250 mm
1954
$2100
1956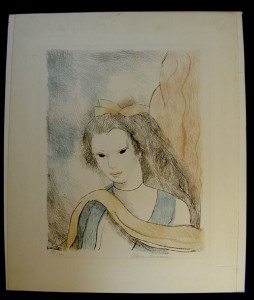 330 mm x 255 mm
1956
$2900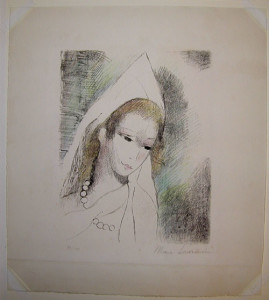 285 mm x 225 mm
1956
$2500