Salvador Dali - Gala, mon seul désir
---
Salvador Dali
Spanish (1904 – 1989)
Salvador Dali Gala, mon seul désir 1965

The Salvador Dali Gala, mon seul désir is a color etching with gold by stencil.  1965 is the year of publication.  Jean Schneider/Basel and Berggruen/Paris were the publishers.  Regal did the gold stencil.  It is printed on Arches paper.  It has an image size of ~14 1/2 x 20 7/8″ with the sheet of 20 7/8 x 26 3/8″. The work is signed and noted 163/175.  The etching is in overall good condition. We guarantee the authenticity of these etchings.
This is background information.

Salvador Dalí is perhaps the most broadly known member of the Surrealist movement of the early twentieth century. Sigmund Freud had a strong influenced on Dali . His avant-garde style explored consciousness and dream-like states. He did this through exaggerated landscapes and bizarre or grotesque imagery. Using the means of painting, Dalí explored these ideas with a meticulous hand and inventive wit. He also used sculpture, printmaking, film and literature.
Although known for his role in Surrealism, Dalí was also a seminal example of celebrity showmanship and the cult of personality, a phenomenon that dominates popular culture today. Dalí was a master of self-promotion and spectacle.  He always had a colorful and flamboyant presence with his signature cape, wide-eyed expression and trademark upturned waxed mustache.
This is the tirage.

The total tirage for Salvador Dali Gala mon seul désir is 254 + proofs.   There were 175 (1/175 – 175/175) on Arches in color. There were 75 (I/LXXV – LXXV/LXXV) on japon in color. Plus there were 4 on parchment I – IV in black.  There are several proofs on each paper.  Defaced plates exist.  This is a small edition for Dali.
Click on this link for additional background information on Salvador Dali.
Call us for more information.  The etching is Available!!!
Click on the thumbnail for a larger image.
Go to the main Individual Works Page for complete etching information.
Gala mon seul désir etching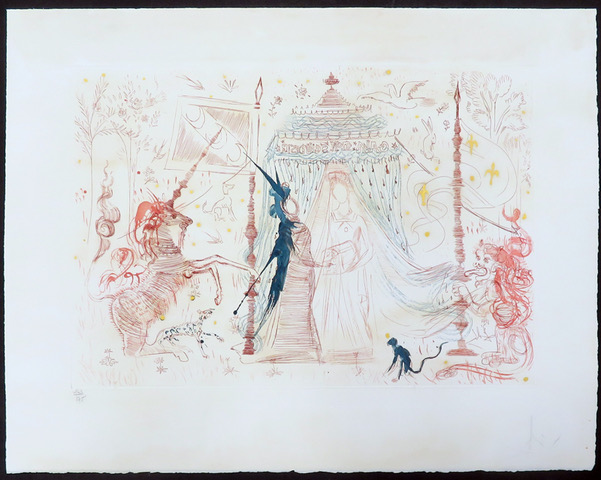 ---