Salvador Dali - Femme-Fleurs
---
Salvador Dali
Spanish (1904 – 1989)
Salvador Dali Femme-Fleurs  (Tristan Fou Costumes) 1972

The Salvador Dali Femme-Fleurs, Tristan Fou Costumes lithograph was published in 1972 by Musee de l'Athenne/Broutta/Desjobert in Paris.. The total tirage according to Lopsinger is 550 and 150 plus by Field. Lopsinger indicates there were XXV on japon. This etching is on japon, is signed by Salvador Dali and is numbered XI/XXV . The image size is 20 1/4 x 26 1/8″ and the 22 1/4 x 30 1/4″. The lithograph is in fine condition.
Click on this link for additional background information on Salvador Dali.
Background

Salvador Domingo Felipe Jacinto Dalí i Domènech was born in 1904 in Spain. He is a main contributor to the Surrealist movement.  For example "The Surrealists hailed what Dalí called his paranoiac-critical method of accessing the subconscious for greater artistic creativity. Also, Dali painted original works.  He used religious themes in many of this works. Hence, these originals were used as a basis for his etchings and lithographs. He took trips to Paris and the Untied States.  He was accompanied by his wife Gala.  She acted as his manager. She was the inspiration of many of this works. Hence, he wasn't particularly interested in lithography as a medium.   Regardless, it did bring in money.   Finally, Dali died in 1989.
Salvador Dalí is perhaps the most broadly known member of the Surrealist movement of the early twentieth century. Heavily influenced by Sigmund Freud, the avant-garde style explored consciousness and dream-like states.  It did this through exaggerated landscapes and bizarre or grotesque imagery. Using the means of painting, Dalí explored these ideas with a meticulous hand and inventive wit.  He also used sculpture, printmaking, film and literature.
Although known for his role in Surrealism, Dalí was also a seminal example of celebrity showmanship and the cult of personality, a phenomenon that dominates popular culture today. Always a colorful and flamboyant presence with his signature cape, wide-eyed expression and trademark upturned waxed mustache, Dalí was a master of self-promotion and spectacle.
Call us for more information. Sold!!!
Click on the thumbnail for a larger image.
Go to the main Individual Works Page for complete etching information.
Femme-Fleurs lithograph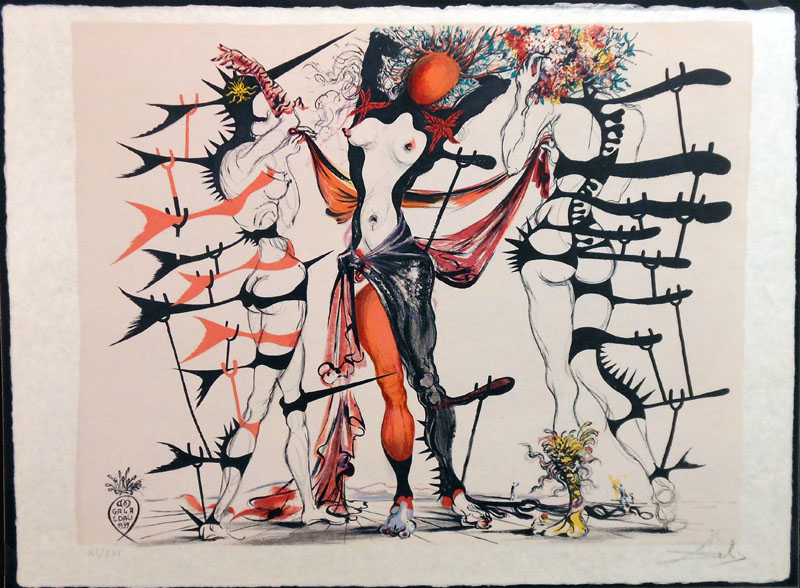 ---