Salvador Dali - Marilyn
---
Salvador Dali
Spanish (1904 – 1989)
Salvador Dali Marilyn 1967

The Salvador Dali Marilyn etching was done in 1967.  It is actually a rework of Aphrodite of the Mythology series.   Editions Argillet, Paris published the etching. The total tirage is 385 including proofs.  The are 250 on Arches (1/250 – 250-250).  There are 100 on Japon (1/100 – 100/100).  This engraving is on japon paper with fine hand coloring and is signed and numbered. The image size is 14 1/2 x 11″ and the sheet is 22 5/8 x 19 5.8″.
It is rare to find this etching in fine condition. When framed, it can become light struck.  This darkens the paper and the image.  Common methods require wetting the paper.  The gold flecks in the image dissolve during conservation.  It is nearly impossible to add them back to the image.
The Fields catalogue number for Marilyn is 67-9.
This is background information.

Salvador Dalí was born on May 11, 1904, in Figueres, Spain. From an early age, Dalí was encouraged to practice his art. He eventually went on to study at an academy in Madrid. In the 1920s, he went to Paris and began interacting with artists such as Picasso, Magritte and Miró.  These interactions led to Dalí's first Surrealist phase. He is perhaps best known for his 1931 painting The Persistence of Memory. This painting shows the iconic image of melting clocks in a landscape setting. Dali used the melting clocks in several of his later works. The rise of fascist leader Francisco Franco in Spain led to the artist's expulsion from the Surrealist movement. However, that didn't stop him from painting. Dalí died in Figueres in 1989.
Click on this link for additional background information on Salvador Dali.
Call us for more information. Available!!!
Click on the thumbnail for a larger image.
Go to the main Individual Works Page for complete etching information.
Marilyn etching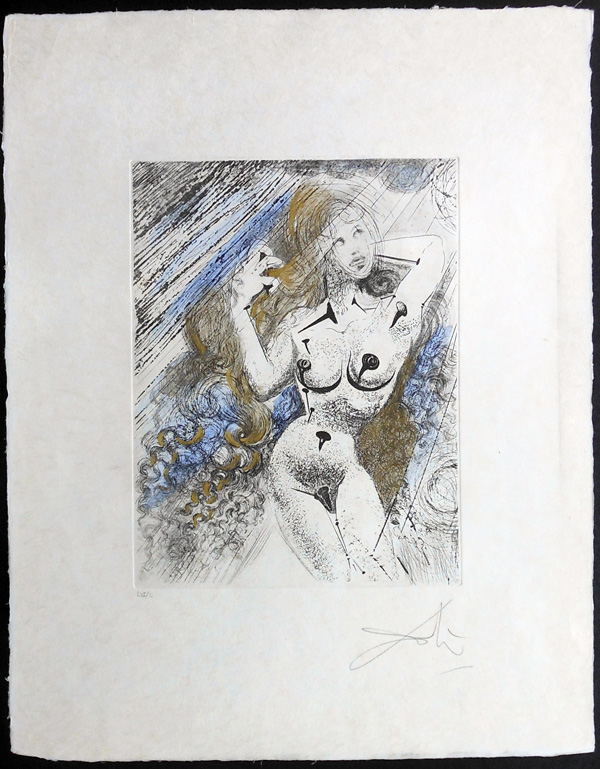 ---