Salvador Dali - Sancho Panca
---
Salvador Dali
Spanish (1904 – 1989)
Salvador Dali Sancho Panca (Panza) 1971

The Salvador Dali Sancho Panca etching was published in 1971 by de Francony.   Rigal did the engraving.  The total tirage is 320.  The editions are 1 – 175 on Lana, I – XXV on japon, 1 – 100 on Richard de Bas, and EA1 – EA20 on Richard de Bas.  The etching shown below is in color.  There are a few etchings in black.
Sancho Panca is one of a pair of etchings from this set.   The other is Don Quixote. This etching is on japon, is signed by Salvador Dali and is numbered VIII/XXV. The image size is 20 1/2 x 15 3/8″ and the sheet is 30 x 22″.
Field lists the publication date as 1971, while Michler and Lopsinger give the date as 1970.
Call us for more information.  Available
Click on the thumbnail for a larger image.
Go to the main Individual Works Page for complete etching information.
Sancho Panca etching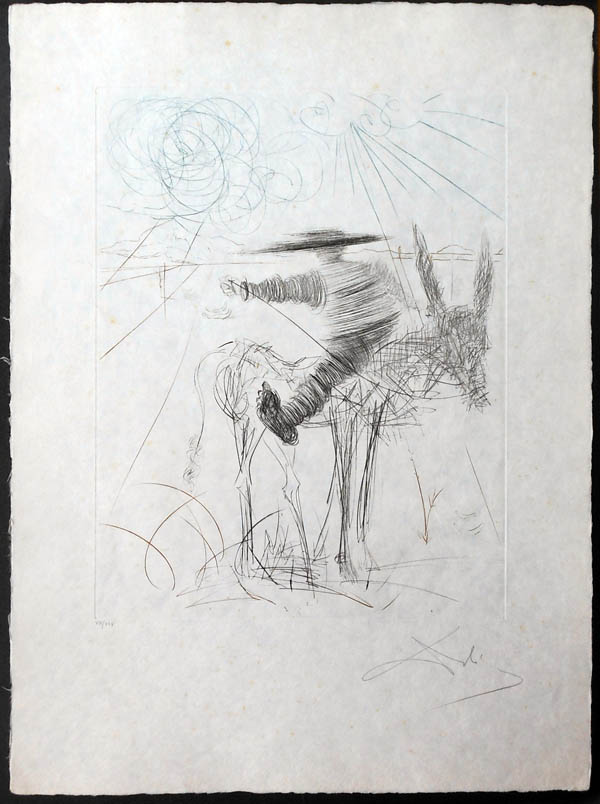 ---