Salvador Dali - Spring Explosive
---
Salvador Dali
Spanish (1904 – 1989)
Salvador Dali Spring Explosive, 1965

Sidney Lucas, New York, published the Salvador Dali Spring Explosive as a lithograph in 1965.  The Lucas Gallery held a Dali exhibition, in the early 1970s.  To promote the exhibition a poster was printed. Dali signed 300 of the posters.   This is a poster from the edition of 300.   It is printed by Sidney Lucas. Salvador Dali signed the lithograph in the lower right. The number is 204/300.  The poster has the inkstamp of the publisher, Sidney Lucas. Those who attended the exhibition received a poster.   The image size is 26 1/2 x 20."   The sheet size is 32 x 24″. The 1965 catalogue from the Sidney Lucas Gallery lists the price of the lithograph as "ask for price."    This indicates the initial price of the lithograph was probably more that $5,000.
The image is of the actual poster.  The paper is poster paper.  It is a heavy paper.
This is background information.

Salvador Dalí was born on May 11, 1904, in Figueres, Spain. From an early age, Dalí is encouraged to practice his art. He eventually went on to study at an academy in Madrid. He went to Paris to interact with artists such as Picasso, Magritte and Miró, in the 1920s, .   These interactions led to Dalí's first Surrealist phase. He is perhaps best known for his 1931 painting "The Persistence of Memory."  This is a painting of the iconic image of melting clocks in a landscape setting.  Dali used the melting clocks in several of his later works.  However, that didn't stop him from painting. Dalí died in Figueres in 1989. Click on this link for additional background information on Salvador Dali.
Click on this link for additional background information on Salvador Dali.
Call us for more information.  Sold!!!
Click on the thumbnail for a larger image.
Go to the main Individual Works Page for complete etching information.
Spring Explosive poster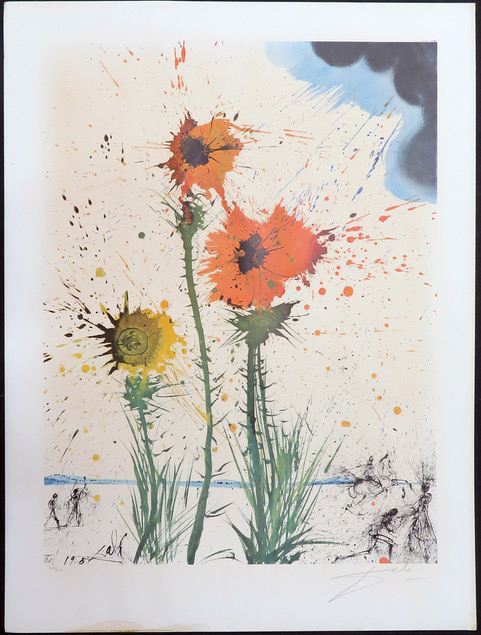 ---