Salvador Dali - The Kingdom
---
Salvador Dali
Spanish (1904 – 1989)
Salvador Dali The Kingdom, 1980

Salvador Dali The Kingdom lithograph printed in 1980 by Levine and Levine for DALART.
The Kingdom lithograph is a full sheet, signed, and numbered 158/350 on Arches paper and is in fine condition. The image size is 23 x 18 inches and the sheet size is 29 1/2 x 21 1/2 inches.  The lithograph is authentic.
This is background information.
Salvador Dalí is perhaps the most broadly known member of the Surrealist movement of the early twentieth century. Heavily influenced by Sigmund Freud, the avant-garde style explored consciousness and dream-like states. He did this through exaggerated landscapes and bizarre or grotesque imagery. Using the means of painting, Dalí explored these ideas with a meticulous hand and inventive wit. He also used sculpture, printmaking, film and literature.
Click on this link for additional background information on Salvador Dali.
Call us for more information. Sold!!!
Click on the thumbnail for a larger image.
Go to the main Individual Works Page for complete etching information.
Salvador Dali The Kingdom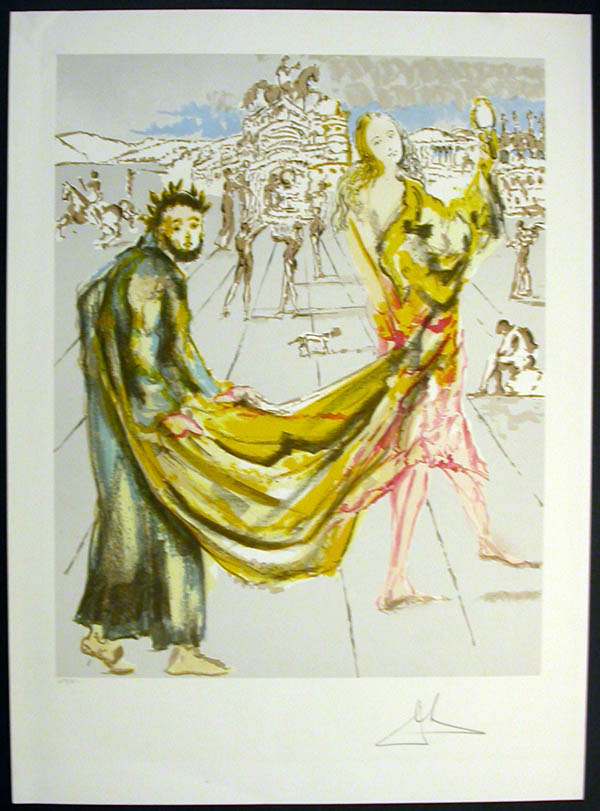 ---