Louis Icart - Louis Icart price book
$29.95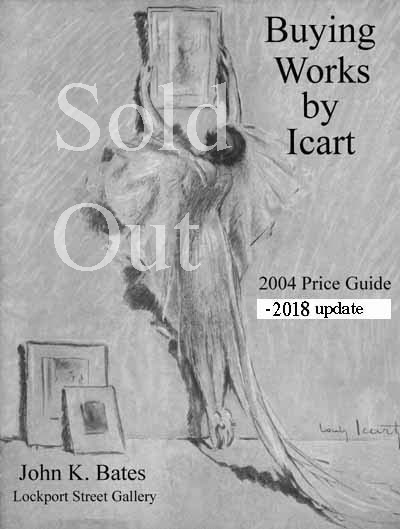 Limited Edition Louis Icart Book!!!
There are many books that catalogue Louis Icart etchings and illustrated books. This book is different. It tells you what you need to know to buy or sell a work by Icart. It describes and shows you how to tell a fine etching from and average etching; it shows you how to tell an authentic Louis Icart etching from a modern reproduction; it includes illustrations to demonstrate points: it tells you what dealers do to enhance the value of an etching; and it lists over 7500 auction results between 2003 and January 1st, 2018 including the condition of the etching and the buyer and seller. Find out what the dealers pay!!! One well known Icart dealer has been tracked on eBay for over 15 years. Find out how to do your own appraisal of a work by Louis Icart.
The Louis Icart book is currently sold out and it is a limited edition book that will not be republished. The book was only for sale through the Lockport Street Gallery. The information, except for the price guide, is available on this (click here).